President's Brunch 2017
---
More about President's Brunch 2017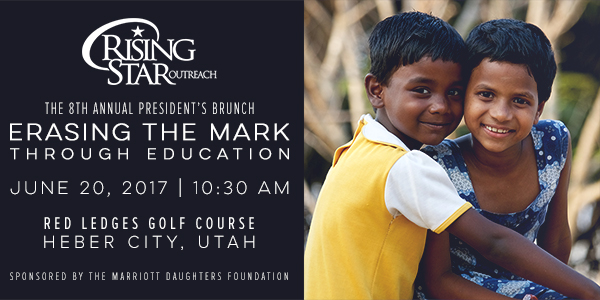 Join us at the 8th Annual President's Brunch on:
Tuesday, June 20, 2017

Registration at 10 AM
Brunch 10:30 AM to 12:00 PM
At Rising Star Outreach, we seek to eliminate the stigma that marks those with leprosy as outcasts. Education is key in this fight against discrimination.

We are pleased to announce the expansion our educational program to include 3 new schools across India, increasing the number of Perpetual Education Grants, and awarding more college scholarships to our outstanding graduates.

Founder and President of Rising Star Outreach, Becky Douglas, will present our exciting plans for growth and show how you can get involved as you join us in erasing the mark through education.
---
Comments
SKU: 2017PRESBRUNCH-COPY (704)